Bayard Jeunesse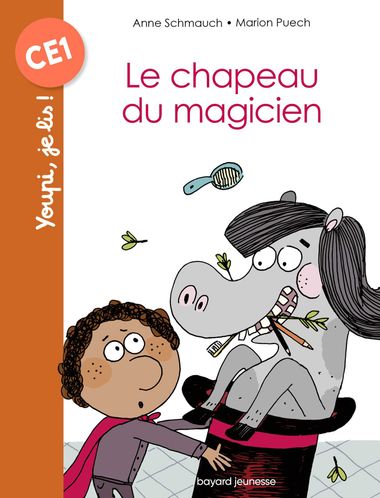 Description:
It's the end of the day. Antoine leaves the fancy dress party where his new magician's costume was a great success. His big sister Emma has come to get him. They decide to take the Magi road, it's a shortcut that will get them home earlier. On… Read more the way, they see a little man, strangely dressed. He has a magician's hat too! The wind is up and a gust blows the hats away. Antoine and the funny little man chase after them.
Back home, Antoine realises he has the wrong hat – they've swapped! The one belonging to the man seems to be a real magician's hat – it's super.
Antoine and his sister try something: « May a rabbit come out of this hat!" and a big white rabbit jumps out and runs off into the garden.
Emma, who's always dreamed of having a pony, can't resist the temptation to say it out loud… That's when Glutton appears! But in an attic, keeping a pony isn't very convenient. Into the bargain, he eats everything he sees…
Less
6 and up
Collection: Youpi, je lis !
Publication date:
Themes: animalsclumsinesshumourmagicians
Retail price: 5,90 €
In the same collection
More