EDMIL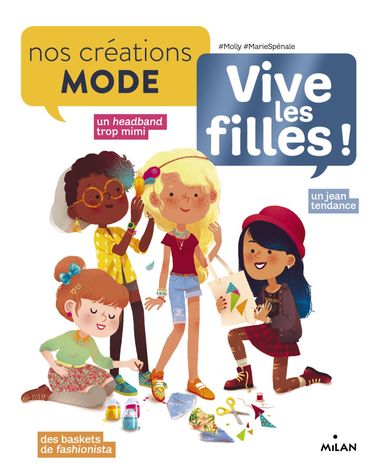 Description:
« Vive les filles ! Le blog créatif » is a range of books with different themes (Fashion, Bracelets and Jewellery, Back to School…). It features 4 bloggers, girls aged between 12 and 13, who each presents her own blog. 20 DIY creations to… Read more make (simple, stylish and totally up to date) then the girls discuss them.
Three of the four bloggers, Valentine, Emma and Alicia who are friends, are systematically present in each title; the forth, a foreigner, changes each time, introducing the trends from her country: in Fashion, it's Lily, Valentine's English pen pal, who gives a « British touch » to her creations
The first two double pages take us to the 4 girls' homepages: they introduce themselves and write a wish list that reveals their tastes and personalities (rock for Valentine, girly for Emma, geek for Alicia, and bohemian for Lily).
The girls make 5 challenges that each accepts by making something that expresses her character. With their posts and chats, they discuss the challenge and give clear, detailed step by step instructions to create or customise an object. Here, it's clothing or a fashion accessory (a top, trainers, a headband, a tote-bag, something made of denim).
Less
10 and up
Collection: Vive les filles !
Publication date:
Themes: activitiesblogcreative leisuresfashion
Retail price: 9,90 €