Qui est le coupable ? Le château
EDMIL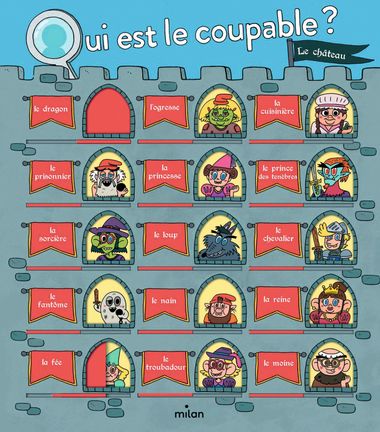 Description:
A new kind of book that combines the pleasure of reading with that of detecting and playing games. At the Mordoré castle, each of the 15 characters has been the victim of a terrible attack, one after the other: two sheep were tied to Brother… Read more Anselm's bells, a ruffian painted a big red heart on the princess's dress, the prince of darkness's roses were cut, the fairy's magic wand was stolen, the dwarf's six brothers were kidnapped…
The young reader has to find the culprit following the tangible clues given by witnesses and integrated into the story: the culprit had pointed ears, we found a black hair… Each clue permits the reader to eliminate a suspect. In the example given they can exclude all those who don't have pointed ears or black hair. Until there's only one left. The investigation proceeds in a concrete manner using a clever system of windows to close on the cover, the same principle as the famous « Who is it? » game.
Pascal Prévot has succeeded in combining interactivity and play with lively, funny stories that can be read on their own, despite being linked by a guiding wire leading from page to page.
Less
5 and up
Collection: Qui est le coupable ?
Publication date:
Themes: fortified castlegameinvestigation
Retail price: 12,90 €
In the same collection
More