Qui est le coupable ? Au manoir
Editions Milan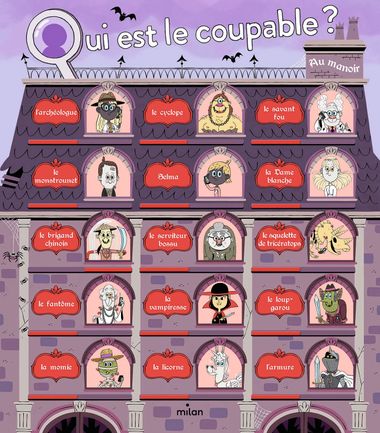 Description:
A new episode of « Qui est le coupable ? », a book that combines the pleasure of reading with an investigation and a game! After the Château Mordoré and Black Beard's Galleon, the next rendezvous is a haunted manor! One by one, each of the15… Read more characters is the victim of a horrible crime: Who cut the cyclops into slices? Who stole Fedora the vampire's false teeth? Who brought the cliff down on the white lady? Who locked up the ghost?
The child must find the culprit using the concrete clues provided by the witnesses and integrated into the story: the culprit wore a white veil, they had bad teeth… Each clue lets the reader eliminate a suspect. They keep track of their progress thanks to a clever system of windows to close on the cover, like the famous "Who is it?" game.
Pascal Prévot has succeeded in blending interactivity and play with funny, dynamic stories that can be read individually, though they are all linked by a guiding thread cleverly unwinding from page to page.
Less
5 and up
Collection: Qui est le coupable ?
Publication date:
Themes: gameinvestigationmanormonster
Retail price: 12,90 €